Home
Dial-in Details:
US: 1-800-786-6596
International: 1-212-231-2902
Passcode: Staffeldt
Corporate Profile
Helix Energy Solutions Group, Inc. is an international offshore energy company that provides specialty services to the offshore energy industry, with a focus on our growing well intervention and robotics operations. Our Contracting Services seek to provide services and methodologies which we believe are critical to developing offshore reservoirs and maximizing production economics. Helix has established a corporate culture in which environment, health and safety (EHS) at work are embraced as core business values. Our operations goal is to deliver our services in a cost effective manner and with zero incidents. More >>
Stock Information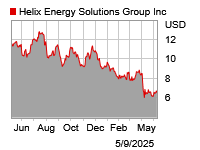 Exchange

(US Dollar)

Price

Change

(%)

Volume

Data as of 08/15/22 2:17 PM EDT

Data Provided by Refinitiv. Minimum 15 minutes delayed.